Date:2013-11-07 11:41source:未知 Writer:cupcakestandshow

Cardboard cupcake stands or cupcake trees are fairly plain unless some thought goes into making them pretty. The good news is you can very easily dress up a plain-jane stand with a few simple items. The other thing is these stands come in round or square tier shapes. Compared to other options, these stands are fairly inexpensive. It's amazing how something so basic can turn out to be so fancy. Take a look at our products to find your inspiration!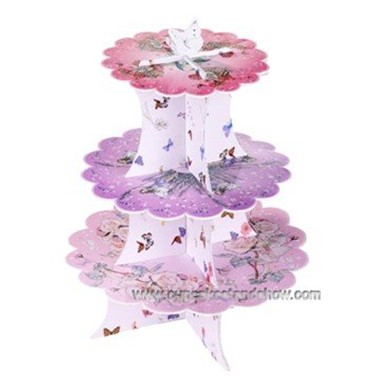 Delightful 3 tier Flower Fairies cake stand. Each tier has pretty scalloped edges and Cicely Mary Barker's fairy designs which are reversible, giving you the option of plain pink and lilac plates. It's simple to assemble, made from sturdy cardboard and comes flat packed for easy storage. The cake stand is topped with a butterfly. The stand holds approx 12 -15 medium size cupcakes.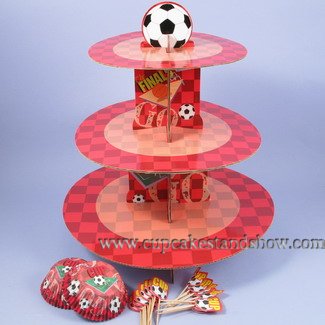 Great value - this kit includes not only the red football cupcake stand but 24 football cup cake cases and 24 matching fun pix to decorate them with. So instead of a birthday cake, you can create something really special and a little different for under £10.00. The stand is made from cardboard and comes flat packed for easy storage.